Future energy: new facility demonstrates the potential of green hydrogen
A pioneering project from Expo 2020 Dubai, DEWA and Siemens exemplifies progress through collaboration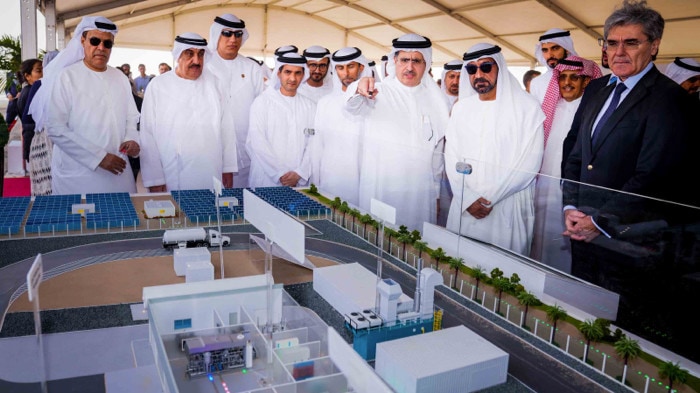 In a step towards a more sustainable future, a first-of-its-kind facility in the region will showcase the huge potential of green hydrogen as a carbon-free energy source.

The solar-driven hydrogen electrolysis facility – created through a collaboration between Expo 2020 Dubai, DEWA and Siemens – has been unveiled at a groundbreaking ceremony in Dubai's Mohammed bin Rashid Al Maktoum Solar Park.

Expo 2020 is committed to hosting one of the most sustainable World Expos in history, and this innovative project brings to life its theme of 'Connecting Minds, Creating the Future', as well as its subtheme of Sustainability.

During Expo 2020, green hydrogen generated by the facility will power fuel-cell vehicles to travel the 50 kilometre distance between the Expo 2020 site and Mohammed bin Rashid Al Maktoum Solar Park – demonstrating one of the clean energy source's many possible uses.

Cutting-edge sustainable technologies such as this will be presented to a global audience of millions during the six months of Expo 2020, helping us move towards a cleaner, greener future.

In the long-term, the facility will contribute to Expo 2020's meaningful and lasting environmental legacy for the UAE, the region and the world.

It will also contribute to the Dubai Clean Energy 2050 strategy, which aims to provide 75 per cent of Dubai's total power output from clean energy sources by 2050, helping it to become the city with the lowest carbon footprint in the world.